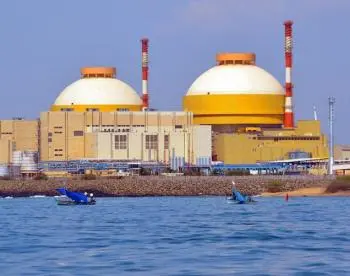 Nuclear power in India is currently in a state of growth with important nuclear energy development plans. India has set two goals for the years 2020 and 2050.
India is one of the few countries within a limited group, which has capacity from beginning to end: to extract uranium, enrich it, use it in nuclear power plants and then reprocess waste so that each watt of energy is harnessed from scarce uranium resource. Since the country believes that plutonium, the so-called "long-lived dirty product" of nuclear programs, is also a rich source of energy, extremely modern nuclear reactors are being designed to make the most of energy.
The only 500 MW Player Reactor Prototype is in an advanced stage of construction in Kalpakkam, south of Chennai, a plant that will generate more fuel than it consumes. The 500 megawatt fast electric breeder reactor (PFBR) prototype began construction in 2004 in Kalpakkam, near Madras. It was expected to start at the end of 2010 and produce electricity in 2011, but this schedule is significantly delayed.
Future Perspectives on Nuclear Energy in India
The objective for the year 2020 is to supply 14,600 MW of power to the electricity grid using nuclear energy. The objective for the year 2050 is that 25% of the electrical energy produced comes from nuclear energy.
India has prospects of becoming a world leader in nuclear technology, due to its experience in rapid reactors and the thorium fuel cycle.
Currently, India is ready to import 40,000 MW of installed capacity in nuclear reactors, of which 20,000 could come from two North American suppliers, General Electric and Westinghouse, another 10,000 from Russia and the remaining 10,000 could be supplied by the French. Negotiations are at an advanced stage, and efforts are under way to find appropriate solutions to respect the requirements of the people-centered nuclear responsibility regime recently sanctioned by the Indian parliament.
The World's Largest Nuclear Power Plant in Jaitapur, India
As planned, the world's largest nuclear power plant would have been in Jaitapur, a coastal space south of Mumbai where AREVA, the French nuclear giant is preparing to install 9900MW in nuclear reactors. It was a project with 6 nuclear reactors, each with 1,740 megawatts of power.
On December 6, 2010, an agreement was signed on the construction of the first two reactors and a fissile material supply contract for 25 years in the presence of French President Nicolas Sarkozy and Indian Prime Minister Manmohan Singh. In March 2015, Areva announced plans to follow a new commercial strategy. This meant not building new reactors. This also applied to the reactors in Jaitapur. Therefore, the construction of the world's largest nuclear power plant is considered abandoned because the type of reactor planned is no longer available.
Presence of India in the International Arena
India is the founding member of the global nuclear control agency, the Vienna International Atomic Energy Agency.
To boost India's nuclear energy plans, it relies on foreign technology and external fuel. All Indian nuclear plants have a high content of indigenous nuclear engineering.
However, a fundamental incompatibility between Indian civil liability law and international conventions limits the provision of foreign technology.
India was excluded from the trade of nuclear plants and nuclear materials for 34 years since the explosion of a nuclear device in 1974, which was oppressive in 1998 after India tested nuclear weapons in Pokharan, in the deserts of Rajasthan. The sanctions were formally null and void in 2008, when the Nuclear Suppliers Group and the International Atomic Energy Agency modified their rules to incorporate India into the nuclear trade club even though India has not yet signed the Treaty of Nuclear Non-Proliferation (NPT) or the Test Limitation Treaty (CTBT). The country's impeccable record of non-proliferation was praised and an exception was made so that India could satisfy its desire to provide clean coal-free energy to its vast population of 1.2 billion inhabitants.
Nuclear Fuel
Due to trade restrictions and the lack of native uranium, India has only been developing a nuclear fuel cycle to exploit its thorium reserves.
India does not have great uranium wealth, and if all resources were used, a 10,000 MW nuclear program could be sustained for only 40 years. But, on the other hand, being the Indian lands rich in Torio, a global nuclear energy development path called the grand three-phase nuclear plan has been implemented in the country.
Nuclear Power Stations in India
Currently, India owns 20 operating nuclear plants owned by the government of India that generate around 4780 MW of nuclear power and also manages about half a dozen research reactors.
Nuclear power plants
Reactors

Nuclear power station of Kaiga

. Kaiga, Uttara Kannada

The Kaiga nuclear plant is an electricity generation facility located in the Uttara-Kannada district of Karnataka State in India.

4

Kakrapar

. Kakrapar, Gujarat
4

Kalpakkam (Madras / MAPS1)

. Kalpakkam, Tamil Nadu
1

Kalpakkam-2 (Madras-2 / MAPS2)

. Kalpakkam, Tamil Nadu
1

Kudankulam

. Kudankulam, Tamil Nadu

The Kudankulam nuclear power plant is located in India. The plant has 2 nuclear reactors. The first reactor supposed to be the 21st reactor in India.

2

Narora

. Narora, Uttar Pradesh
2

Rajasthan

. Kota, Rajasthan
8

Tarapur

. Maharashtra
4
Indian Prime Minister Manmohan Singh, a well-known nuclear power advocate, put the future of his own government in check in 2008, by supporting the civil nuclear agreement between India and the United States, which led to India's reintegration into global nuclear trade . India now wishes to increase its nuclear capacity to 63,000 MW by 2032 with the importation of nuclear reactors from France, Russia and the United States.
The nuclear power plant of Kudankulam 1 and 2 of Russian manufacture. Russia supplied the first large nuclear power plant in India, which comprises two VVER-1000 (V-412) reactors. The AES-92 units in Kudankulam in the state of Tamil Nadu have been built by NPCIL and have also been commissioned and operated by NPCIL under the IAEA safeguards. Construction began in March 2002.
Kudankulam 3 and 4 nuclear reactors are being built as the first phase of phase 2 on the site and AES-92 units with Russian technical assistance "within the scope" of the 1988 agreement are also being built.
India's nuclear power program is based primarily on local technology and, at present, the Department of Atomic Energy produces its own 700MW Pressurized Heavy Water Reactor, while a smaller 22 MW reactor is offered for export to countries that wish to access nuclear technology.
The idea is to install small reactors that use natural uranium to generate energy, the waste that arises from them can be used as fuel in the so-called "fast breeder reactors" and finally a completely new type of reactor, the Advanced Heavy Water Reactor, a plant It feeds on the abundant reserves of thorium, which would generate enough energy to feed India for 250 years, achieving the Indian feat of energy independence.
Nuclear Power Reactors Under Construction in India
The following nuclear reactors are currently under construction in India.
Kalpakkam reactor, PFBR reactor type, gross power 500 megawatts, net power 470 megawatts, expected date 2020.
Kakrapar 3 reactor, type of PHWR reactor, gross power 700 megawatts, net power 630 megawatts, expected date 2022.
Kakrapar 4 reactor, type of PHWR reactor, gross power 700 megawatts, net power 630 megawatts, expected date 2022.
Rajasthan 7 reactor, type of PHWR reactor, gross power 700 megawatts, net power 630 megawatts, expected date 2022.
Rajasthan 8 reactor, type of PHWR reactor, gross power 700 megawatts, net power 630 megawatts, expected date 2022.
Kudankulam 3 reactor, type of PWR reactor, gross power 1050 megawatts, net power 917 megawatts, expected date 2025.
Kudankulam 4 reactor, type of PWR reactor, gross power 1050 megawatts, net power 917 megawatts, expected date 2026.