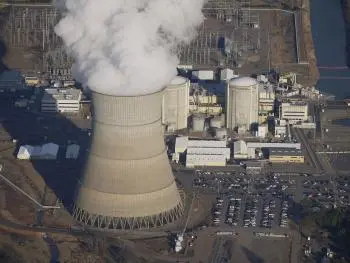 According to the US Energy Information Administration (EIA), as of March 2023, there are a total of 93 operating nuclear reactors at 56 nuclear power plants located in 28 US states.
Some of these reactors are in the process of being closed or dismantled. There are also several nuclear power plants that have been planned but not yet built.
Nuclear power represents approximately 20% of the total electric power production in the United States, according to the (EIA).
Nuclear power is one of the most important energy sources in the US, along with natural gas, coal, and renewables like hydroelectric, wind, and solar.
Here is a list of nuclear power plants in the United States:
Nuclear power plants
Reactors

 Arkansas Nuclear One

. London, Arkansas

The Arkanas nuclear power plant is the only nuclear plant in the state of Arkansas, United States. It is composed of two nuclear reactors of the PWR type.

2

 Beaver Valley

. Shippingport, Pennsylvania

The Beaver Valley nuclear power plant is a nuclear power plant that produces electricity on the Ohio River in the city of Shippingport, in Beaver County, in the western corner of Pennsylvania, USA.

2

 Braidwood

. Braidwood, Illinois

The Braidwood Nuclear Power Plant is located in Will County in northeastern Illinois. Provides electricity to Chicago and northern Illinois. This plant has two Westinghouse pressurized water reactors.

2

 Browns Ferry

. Decatur, Alabama

The Brown's Ferry nuclear power plant is located next to the Tennessee River near Decatur, Alabama. The complex has three boiling water reactors (BWR) and is wholly owned by the Tennessee Valley Authority.

3

 Brunswick

. Southport, North Carolina

The Brunswick nuclear power plant is located in the USA. It has an area of 4.9 km². The site is adjacent to the population of Southport, North Carolina and wetland and forest areas.

2

 Byron

. Byron, Illinois

The Byron nuclear power plant is located in Ogle County, in northern Illinois in the United States, about 90 kilometers west of Chicago. It consists of two PWR pressurized water reactors, which have a total capacity of 2,421 MW.

2

 Nuclear power plant in Callaway, USA

. Callaway County, Missouri

The Callaway Nuclear Power Plant occupies 21 square kilometers in Callaway County, Missouri, near Fulton, Missouri. Callaway Reactor 1 is the only nuclear commercial unit in the state.

1

Calvert Cliffs

. Lusby, Maryland

The Calvert Cliffs nuclear power plant is located in the USA. It is a nuclear power plant that has two nuclear pressurized water reactors (PWR).

2

Catawba

. Clover, South Carolina
2

Clinton

. Clinton, Illinois
1

Columbia (WNP-2)

. Richland, Washington
1

Comanche Peak

. Glen Rose, Texas
2

Cooper

. Brownville, Nebraska
1

Crystal River-3

. Crystal River, Florida
1

Davis Besse

. Oak Harbor, Ohio

The Davis-Besse nuclear power plant is located on the shore of Lake Erie near Oak Harbor, in the state of Ohio in the United States. The nuclear facility has a single nuclear reactor.

1

Diablo Canyon

. San Luis Obispo, California
2

Donald Cook

. Bridgman, Michigan
2

Duane Arnold

. Palo, Iowa
1

Farley

. Dothan, Alabama
2

FitzPatrick

. Oswego, New York
1

Fort Calhoun

. Fort Calhoun, Nebraska
1

Grand Gulf

. Port Gibson, Mississippi
1

H B Robinson-2

. Hartsville, South Carolina
1

Hatch

. Baxley, Georgia
2

Hope Creek

. Salem, New Jersey
1

Kewaunee

. Kewaunee, Wisconsin
1

LaSalle

. Seneca, Illinois
2

Limerick

. Pottstown, Pennsylvania
2

McGuire

. Cornelius, North Carolina
2

Monticello

. Monticello, Minnesota
1

Nine Mile Point

. Scriba, New York
2

North Anna

. Mineral, Virginia
2

Oconee

. Seneca, South Carolina
3

Oyster Creek

. Forked River, New Jersey
1

Palisades

. South Haven, Michigan
1

Palo Verde

. Wintersburg, Arizona
3

Perry

. Perry, Ohio
1

Pilgrim

. Plymouth, Massachusetts
1

Point Beach

. Two Rivers, Wisconsin
2

Prairie Island

. Red Wing, Minnesota
2

Quad Cities

. Cordova, Illinois
2

R E Ginna

. Ontario, New York
1

River Bend

. St Francisville, Louisiana
1

Salem

. Salem, New Jersey
2

San Onofre-2

. San Clemente, California
1

San Onofre-3

. San Clemente, California
1

Seabrook

. Seabrook, New Hampshire
1

Sequoyah

. Chattanooga, Tennessee
2

Shearon Harris

. New Hill, North Carolina
1

South Texas

. Wadsworth, Texas
2

St. Lucie

. Fort Pierce, Florida
2

Surry

. Surry, Virginia
2

Susquehanna

. Berwick, Pennsylvania
2

Three Mile Island

. Middleton, Pennsylvania

The Three Mile Island nuclear power plant, located at the Estats Units, is a nuclear power plant with a nuclear power plant due to the nuclear accident in 1979.

2

Turkey Point-3

. Miami, Florida
1

Turkey Point-4

. Miami, Florida
1

Vermont Yankee

. Vernon, Vermont
1

Virgil C Summer

. Jenkinsville, South Carolina
1

Vogtle

. Waynesboro, Georgia
2

Waterford-3

. Taft, Louisiana
1

Watts Bar

. Spring City, Tennessee
2

Wolf Creek

. Burlington, Kansas
1