The nuclear power station of Vandellós I is part of the nuclear complex located next to the population of L'Hospitalet de l'Infant in the province of Tarragona. The complex is formed by the nuclear plants of Vandellós I and Vandellós II. At present, only the Vandellós II nuclear power plant is still operational.
On 19 October 1989, a nuclear accident occurred at the Vandellós I plant.
That day a fire broke out in the electric generator due to a mechanical failure. Indirectly, this fire caused a flood of seawater in the area of the nuclear reactor that caused some of the safety systems to be inoperative.
The Vandellós I Nuclear Power Plant incident was classified as level 3 ("major incident") on the INES Scale, as there was no escape of radioactive products to the outside, nor was the core of the reactor damaged, nor was there Contamination within the site.
The damage suffered by the security systems caused the degradation of the defense in depth of the security of the power station.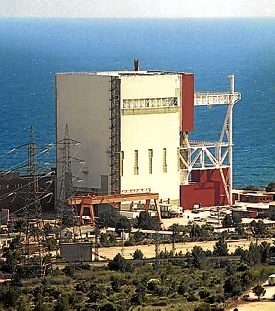 Due to the incident, the regulatory body, the Nuclear Safety Council (CSN), called for a number of important improvements. The high cost of these improvements led Hifrensa to stop the activity of the plant.

On November 24, 1989, the former Spanish Ministry of Industry and Energy resolved to suspend the operating license of the plant. Due to this resolution, the plant received the ministerial order of its definitive closure and its dismantling.

Nonetheless, before the start of the decommissioning, from 1991 until 1997, Hifrensa managed the first phase of decommissioning. This first phase consisted principally of dismantling the installations which were no longer necessary and transferred spent nuclear fuel to France as well as other nuclear waste.

The second phase of the dismantling began in 1998. ENRESA took charge of the dismantling of all external structures except the nuclear reactor and the complete confinement of it. In 2003, the second phase of dismantling was completed and what was known as the latency phase was started. The latency phase consists of a waiting period of 25 years to reduce the radioactivity of the nuclear reactor.

The third and last phase of the decommissioning, corresponding to the withdrawal of the reactor and the demolition of all the buildings that can be left so that the lot can be used for any type of activity has not yet been carried out

Author: